Body Polish/Scrub with Rose Gel and Walnut Scrub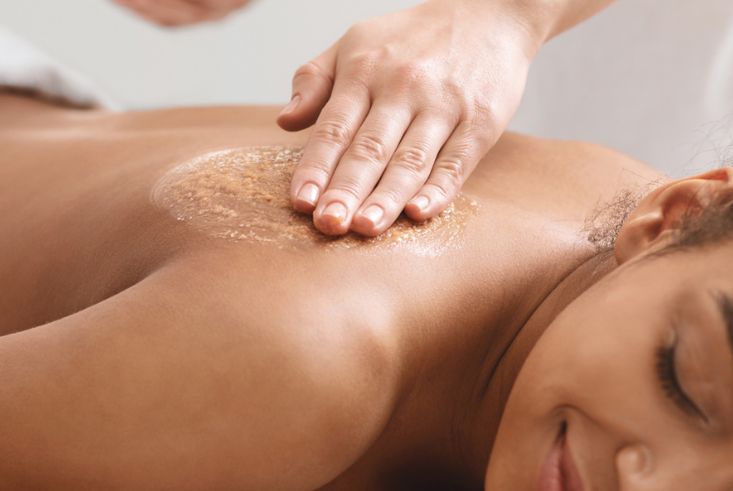 Body Polish/Scrub with Rose Gel and Walnut Scrub
Note: The 30 min session includes service for Back Only
The 60 min & 90min session includes service for the Whole body

Experience our Body Polish/Scrub with Rose Gel and Walnut Scrub for revitalized skin. This treatment combines the exfoliating power of walnut scrub with the hydrating benefits of rose gel. Enjoy smoother, glowing skin as dead cells are gently removed and hydration is replenished. Treat yourself to a rejuvenating experience and reveal your body's natural radiance.
Rose Gel promotes even skin tone and brightens the complexion Walnut scrub is an amazing way to supply Vitamin C and folic acid and Vitamin E which helps promote the healthy PH of our skin by making it brighter, smoother, and lustrous. It also helps reduce blemishes and dark spots. Rose water is a very good astringent. It not only leaves your skin feeling rejuvenated but also smells lovely.
Benefits of our Rose Gel and Walnut Scrub Body Polish/Scrub include:
1. Exfoliation: The walnut scrub effectively removes dead skin cells, unclogs pores, and promotes a healthy skin renewal process, resulting in smoother and more radiant skin.

2. Hydration: The rose gel hydrates and moisturizes the skin, leaving it supple, soft, and glowing.

3. Improved Skin Texture: Regular use of the body polish/scrub helps to improve the overall texture of the skin, making it smoother and more even.

4. Enhanced Blood Circulation: The exfoliation and massaging action during the treatment helps to stimulate blood circulation, promoting healthier-looking skin.

5. Relaxation: The captivating aroma of roses and the pampering nature of the treatment provide a soothing and relaxing experience, promoting a sense of well-being.

6. Preparing the Skin: By removing dead skin cells and impurities, the body polish/scrub prepares the skin for better absorption of subsequent body treatments or moisturizers.

Experience the benefits of our Body Polish/Scrub with Rose Gel and Walnut Scrub, and enjoy rejuvenated, hydrated, and beautifully smooth skin.
Duration

30 Mins

or

60 Mins

or

120 Mins