Body Polish/Scrub with Lime Gel and Walnut Scrub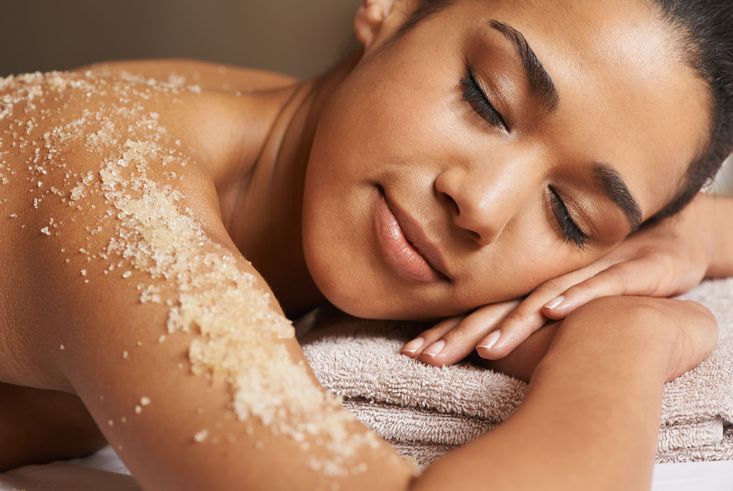 Body Polish/Scrub with Lime Gel and Walnut Scrub
Note: The 30 min session includes service for Back Only
The 60 min & 90min session includes service for the Whole body

Experience our invigorating Lime Gel and Walnut Scrub Body Polish/Scrub. This exfoliating treatment gently removes dead skin cells, revealing a smoother, more radiant complexion. The lime gel brightens and rejuvenates the skin, while the walnut scrub particles provide effective exfoliation. Enjoy soft, hydrated skin that feels revitalized.
Body Polish/scrub with Lime Gel +Walnut scrub is an amazing way to supply Vitamin C and folic acid and Vitamin E which helps promote the healthy PH of our skin by making it brighter, smoother, and lustrous. It helps in de-tanning the skin too. This treatment comprises the application of products with smooth hand movement increasing blood circulation throughout the body and helping to reduce redness, allergies, and blemishes by supplying antioxidants.
Benefits of our Lime Gel and Walnut Scrub Body Polish/Scrub include:
Exfoliation: The scrub gently removes dead skin cells, promoting a smoother and more even skin texture.



Brightening: The lime gel helps to brighten the skin, reducing the appearance of dark spots and promoting a more radiant complexion.



Rejuvenation: By removing dull, dry skin, the scrub stimulates cell turnover and rejuvenates the skin, leaving it looking refreshed and revitalized.



Unclogging Pores: The walnut scrub particles effectively unclog pores, preventing the buildup of impurities and promoting clearer skin.



Improved Absorption: Exfoliating the skin helps to enhance the absorption of moisturizers and lotions, allowing them to penetrate deeper and provide optimal hydration.



Soft and Smooth Skin: After the treatment, your skin will feel incredibly soft, smooth, and hydrated, providing a luxurious tactile sensation.



Overall Skin Health: Regular use of our Body Polish/Scrub can improve the overall health of your skin, promoting a youthful appearance and enhancing your natural glow.
Indulge in the benefits of our Lime Gel and Walnut Scrub Body Polish/Scrub, and experience the joy of revitalized, radiant skin.
Duration

30 Mins

or

60 Mins

or

90 Mins